You're invited to the free J Forum featuring keynotes by
Holly Cummins, Ben Evans, Heather VanCura and Martijn Verburg.
After 25 years, is there anything new left to say about Java? Of course!

While doomsayers have been predicting the language's decline for years, Java still ranks as one of the top 5 most popular languages in the world. Not bad for a programming language that predates WiFi.

Ahead of this September's release of Java 19, join us as we welcome Holly Cummins, Ben Evans, Heather VanCura and Martijn Verburg for 4 keynotes exploring the current state of the Java ecosystem.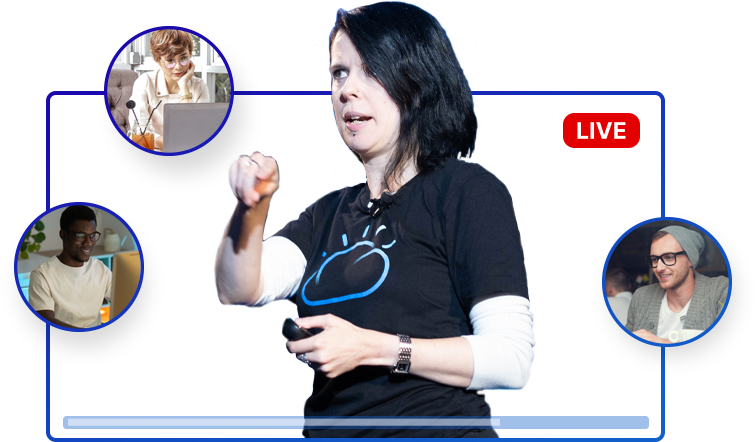 Who should attend?
Java Developers and Java Engineers
Full Stack Java Developers
Senior Java Developers / Engineers
C# Developers / Engineers
Application Developers / Engineers
Software Developers / Engineers
.NET Developers / Engineers
Python Developers
Software Architects
Team Leads and Engineering Managers/Directors
CIOs and CTOs
The J Forum will be an online conference.
This event begins at 12:30 UTC

Ticket holders will also receive exclusive access to recordings of all sessions. These recordings will be available shortly after the event, allowing you to watch the conference at your convenience.
Whether you're looking to attract talent to your team or spread awareness of your company, sponsoring the Java Forum is a terrific way to support and connect with our global community of Java developers.

If you're looking to develop relationships with our members, or to showcase your product and spread brand awareness, we'd love to find a way to create meaningful interactions between you and our community.
REAL EXPERTS. REAL SKILLS. REAL COMMUNITY.
Skills Matter is a global community of technologists interacting, sharing knowledge, inspiring and improving each other. It's where software professionals go to get inspired, connect with peers and learn about new technologies; and where tech experts go to share their knowledge, build their personal brands and grow their audiences.
With 100,000+ members from 126 countries, Skills Matter is one of the world's largest communities of software professionals. These community members connect on our platform and participate in expert-led talks, conferences, meetups and workshops advancing the state of software engineering globally.